Seat Depth
30 to 50 cm approx
Prices from:
£4,650.00 exVAT
£5,580.00 incVAT
Product code: trekk2
Approximate Delivery Date
28th Oct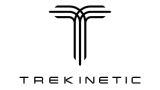 Tel: 0808 2959 909
Email: sales@bettermobility.co.uk
Price including selected options: £4,650.00 exVAT (£5,580.00 incVAT).
* Please note that all online orders will be carefully checked for compatibility. You will be notified should any action be required.
See more
Promoting independence, capability and comfort
Description
An innovative new approach to off-road design, the Trekinetic K2 is an adaptable and empowering manual wheelchair with a host of clever and useful features designed to promote exploration and encourage independence. A lightweight molded carbon fibre seat shell, tool-less adjustable wheel camber, dynamic braking and a stable three-wheel design are among the unique benefits of the K2.
Built in shock-absorption and seat recline help to manage pressure and ensure a smooth ride, even on very bumpy ground. The dynamic braking system allows the user to stop, slow or even turn the chair without touching the wheels. A clever 'Varicam' axle provides wheel camber adjustment without the need for tools, meaning the K2 can be set to a wide stance for outdoor adventuring, then set to a more compact and upright wheel position for indoor use.
By putting the drive wheels at the front, the K2 can make easy work of even the roughest terrain, while a large and capable rear castor provides plenty of stability and completely removes the risk of tipping.
For transport the K2 can be folded down into a package only slightly larger than the main seat shell.
Kids and Teens
The K2 features several options that make it ideal for children and young adults. A Hyperforma seat lining full of form-matching beads allows the seat shell to fully support the user and can be easily removed if required. A growth kit raises the standard footplate using modular spacers to provide secure and comfirtable leg and foot support.
Want to meet your dream chair? Click 'Enquire Now' above for a specialist fitting or for more information.
- Innovative, cutting edge and liberating design
- Advanced off-road credentials
- Customisable colours and easy to transport
Specification
* All size measurements in centimetres (cm)

Seat Width:
40 / 48 (Standard Seat Shell)
30 to 40 approx (with Hyperforma Lining)
Seat Depth:
50 approx (Standard Seat Shell)
30 to 40 approx (with Hyperforma Lining)
Camber: 0° to 16°, adjustable

Maximum User Weight: 125 kg
Total Length: 114
Total Width: Seat Width + 31 to 46 cm (Adjustable Camber Setting Dependent)
Total Weight: 16kg approx
Weight without Rear Wheels: 9kg approx
Documentation
---
You may not have to pay VAT on this item (*Subject to status)
Simply add the product to your shopping basket and fill out the zero-rated VAT form when you checkout. If you require any assistance please give us a call on 0808 2959 909.
The crash test symbol indicates that this chair has been tested for use in a vehicle to ISO7176-19 accreditation or similar.