Prices from:
£10,795.00 exVAT
£12,954.00 incVAT
Product code: trekGTE
Get it by 17th Jul
(Estimated)
Currently 10-12 Weeks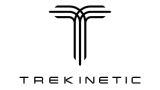 Tel: 0808 2959 909
Email: sales@bettermobility.co.uk
Promoting independence, capability and comfort
Description
An innovative new approach to off-road design, the Trekinetic GTE is an adaptable and empowering power wheelchair with a host of clever and useful features designed to promote exploration and encourage independence. A lightweight molded carbon fibre seat shell, tool-less adjustable wheel camber, dynamic braking and a stable three-wheel design are among the unique benefits of the GTE.
The GTE's powered wheel hubs provide up to 6 km/h (3.7 mph) of on or off-road performance and a simple switch allows the motors to be disconnected so that the GTE can be used as a manual chair. The GTE's control joystick features 5 speed settings as well as a USB charging port.
Built in shock-absorption and seat recline help to manage pressure and ensure a smooth ride, even on very bumpy ground. The dynamic braking system allows the user to stop, slow or even turn the chair without touching the wheels. A clever 'Varicam' axle provides wheel camber adjustment without the need for tools, meaning the GTE can be set to a wide stance for outdoor adventuring, then set to a more compact and upright wheel position for indoor use.
By putting the drive wheels at the front, the GTE can make easy work of even the roughest terrain, while a large and capable rear castor provides plenty of stability and completely removes the risk of tipping.
For transport the GTE can be folded down into a package only slightly larger than the main seat shell.
Want to meet your dream chair? Click 'Enquire Now' above for a specialist fitting or for more information.
- Innovative, cutting edge and liberating design
- Advanced off-road credentials
- Customisable colours and easy to transport
Specification
* All size measurements in centimetres (cm)

Seat Width: 40 / 48
Camber: 0° to 16°, adjustable
Speed: 6 km/h (3.7 mph)
Battery Size: 6.7Ah / 11.8Ah
Turning Radius: 100
Maximum User Weight: 114 kg
Total Length: 114
Total Width: Seat Width + 31 to 46 cm (Adjustable Camber Setting Dependent)
Total Weight: 34kg approx
Weight without Rear Wheels: 18kg approx
Documentation
---
You may not have to pay VAT on this item (*Subject to status)
Simply add the product to your shopping basket and fill out the zero-rated VAT form when you checkout. If you require any assistance please give us a call on 0808 2959 909.