The Better Mobility Team
Born out of frustration and confusion! Not what you would expect to read as the introduction to a company is it? But that's exactly how the idea of Better Mobility came about. After struggling to find informative, reliable advice for their son's wheelchair needs and being offered appallingly inadequate solutions (unfortunately all too commonly experienced by parents of disabled children) the Warner family set off to gather their own information. They soon realised that there were many other people feeling just as frustrated. Good old customer service combined with knowledge and an understanding of people's needs and what equipment was available was hard to find. What they also realised was that they could offer people a better experience than they were getting, with great customer service and thorough knowledge of the available equipment. Thus, Better Mobility was born! Over fifteen years on, we are proud to say that our commitment to customer service remains our top priority.
Our highly trained assessors are ready to make sure that you have all the information that you require to make an informed decision. With a huge range of demonstration equipment available we are always able to offer you impartial views on what's best for you, your family or your patients. We are always refreshing our stock with the latest products, making sure you are able to see and try the best and most innovative products available.
A Better Mobility Experience:
Thorough assessments provided by highly trained assessors, with a focus on environmental and social as well as clinical wants and needs
A huge range of equipment from all the brands you know and trust. You don't have to compromise or be limited in your selection
All staff carry Enhanced DBS/CRB certificates
Highly experienced and trained service and maintenance engineers
After sales service that is second to none for peace of mind
Customised mobility solutions - to suit you
How do you make a Better team?
Firstly, you seek out dedicated, innovative thinkers who have a true passion for going the extra mile.
Then you encourage and support them with continued learning opportunities. Training courses, on the job training, sharing experiences and learning from each other is something that we do every day. Lastly, you emphasise great communication, amongst the team members (of course) but also with our customers in particular.
Our team, is YOUR team. Honest, Helpful, Hard-working... Now that's Better.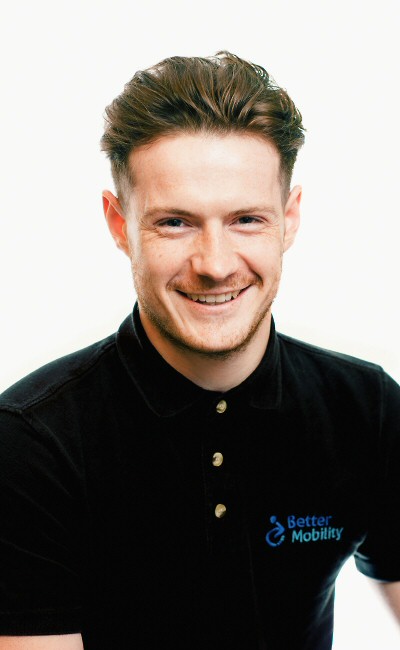 Customer's Favourite 2018
Within the Better Mobility team, everyone does their best, and tries to be their most helpful to our customers at all times.
Every year there is one team member that really shines though, and the glowing feedback from their customers evidences this. Andy Wynn clearly spent much of his 2018 going over and above for his customers, and thus, is Better Mobility's "Customer Favourite of the Year".
Join the team...
See our what our customers have to say...
Meet The Team
Craig Topping

Business Manager & Senior Seating Specialist
Natasha Warner-Mizon

Operations Manager

Elizabeth Warner

Assistant Business Manager

Andrew Weston

Power Mobility & Seating Specialist
Andrew Wynn

Seating Specialist

Keith Harris

Service Engineer
Steve Birkett

Service Engineer

Gareth Warner

Junior Administrator
Janice Stevens

Showroom Assistant
With many years combined experience in the mobility industry, we have all the specialities which allows us to give you everything you need and want from one company. There is no need to go anywhere else.