Prices from:
£2,408.00 exVAT
£2,889.60 incVAT
Product code: KuschallKSeries2
Get it by 19th Jun
(Estimated)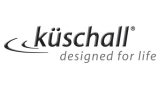 Tel: 0808 2959 909
Email: sales@bettermobility.co.uk
Iconic, Lightweight, Active, Adjustable
Description
The iconic, single tube, open frame design of the Kuschall K-Series is instantly recognisable and brings with it a number of unique features. Using fewer frame tubes results in less weight, making the K-Series one of the lightest rigid wheelchairs available. Independent of the base frame, the seat module is highly adjustable and the seating position can be tailored to the individual user.
A tapered, hydroformed front frame with ergonomic grips assists with transfers and repositioning. New aluminium brakes with a minimal design reduce overall weight and look sleek. A folding, padded backrest provides comfort and versatility. The K Series' seat module offers five centre of gravity settings.
The K-Series 2.0 features a folding backrest that will lock down onto the seat for transportation and is height and angle adjustable when in use. Additionally a smooth rounded brace bar behind the seat gives the user something to hold on to when reaching around, making it easier to access the rear seat pocket.
Optional suspension improves comfort for users weighing up to 100kg.
With a lightweight aluminium frame, the K Series 2.0 provides an excellent driving characteristic and is well suited to an active lifestyle. The frame can be specified in a range of smart and sophisticated colours.
Want to meet your dream chair? Click 'Enquire Now' above for a specialist fitting or for more information.
- Iconic, single tube, open frame design
- Super lightweight rigid frame
- Adjustable seating position ensures perfect fit
Specification
* All size measurements in centimetres (cm)
Seat Width: 32 / 34 / 36 / 38 / 40 / 42 / 44 / 46 / 48 / 50

Seat Depth: 35 / 37.5 / 40 / 42.5 / 45 / 47.5 / 50 / 52.5

Seat Height:
45 to 52 (in increments of 1) (Front)
39 to 49 (in increments of 1) (Rear)

Backrest Height: 27 to 48 (in increments of 1.5)
Backrest Angle: -4° / 0° / 4° / 8° / 12° / 16°
Front Frame Angle: 75° / 90°
Footplate Distance: 29 to 48 (in increments of 1)

Camber:
0° / 3° / 6° (Standard)
1°, 3°, 7°, 10° (Adjustable) (Vario-Axle) (Optional)

Maximum User Weight: 130kg
Total Length:
76 approx (90° front frame)
83 approx (75° front frame)

Total Width: Seat Width + 17 cm (with 0° camber)
Total Weight: 7.8kg approx
Weight without Rear Wheels: 5.1kg approx
Warranty: 5 years frame, 2 years parts
Documentation
---
You may not have to pay VAT on this item (*Subject to status)
Simply add the product to your shopping basket and fill out the zero-rated VAT form when you checkout. If you require any assistance please give us a call on 0808 2959 909.
The crash test symbol indicates that this chair has been tested for use in a vehicle to ISO7176-19 accreditation or similar.