Prices from:
£1,844.00 exVAT
£2,212.80 incVAT
Product code: easystandstrapstand
Approximate Delivery Date
16th Sep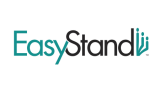 Tel: 0808 2959 909
Email: sales@bettermobility.co.uk
Price including selected options: £1,844.00 exVAT (£2,212.80 incVAT).
* Please note that all online orders will be carefully checked for compatibility. You will be notified should any action be required.
See more
Enjoy the benefits of supported standing
Description
The EasyStand StrapStand is a standing frame that lifts the user directly from their wheelchair, bed or other seated surface rather than having to transfer to a stander. The dual-hinged lifting arms gently raise the user vertically and then gradually pull to a standing position, reducing pressure on the knees.
The straps are designed to be easily placed under a user who is seated. Each strap is sewn to form a pocket that securely supports the user during the sit-to-stand transition.
The StrapStand's adjustability is well suited for multi-user environments. Options include swing-out legs, multi-adjustable foot plates, various sizes and styles of lifting straps and independent knee pads.

Standard Package Includes:
2 x 3in castors, hydraulic actuator with handle, 2 x 4in front wheels, medium chestpad.
* Please Note: You need to choose a frame style, tray, lifting strap, knee pads and footplates to complete the build.
Specification
* All size measurements in centimetres (cm)
Intended User Height: 5ft to 6ft 5in (152 to 195)
Max User Weight: 159 kg
Knee Pad Width: 43
Knee Pad Height: 23
Total Length: 86
Total Width: 71
Total Weight: 58 kg
Documentation
---
You may not have to pay VAT on this item (*Subject to status)
Simply add the product to your shopping basket and fill out the zero-rated VAT form when you checkout. If you require any assistance please give us a call on 0808 2959 909.