Prices from:
£4,895.00 exVAT
£5,874.00 incVAT
Product code: triridehp
Approximate Delivery Date
30th Sep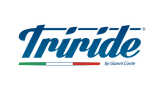 Tel: 0808 2959 909
Email: sales@bettermobility.co.uk
Price including selected options: £4,895.00 exVAT (£5,874.00 incVAT).
* Please note that all online orders will be carefully checked for compatibility. You will be notified should any action be required.
See more
TriRide add-ons are feature-rich powered front wheels that can turn your manual wheelchair into a powered one
Description
The TriRide HP16 is a high performance, long-range powered add-on with a 16inch strengthened aluminium drive wheel and a high torque motor, perfect for long journeys. With disk brakes and 1500W electric motor, the HP16 can propel you on or off road for up to 50km on a single charge.
In addition to it's capable forward performance, the TriRide HP16 can also operate in reverse and features cruise control and assisted castor raising. Regenerative braking recaptures energy from braking to recharge the battery and extend the range. A large, clear LED display shows the battery level, selected program, speed, headlight indicator, motor temperature, ambient temperature and trip distance.
The TriRide lateral mounting bracket can safely attach to a huge range of manual wheelchairs from a wide selection of manufacturers. A central attachment module is available as an additional option. Please
contact us
to check your wheelchair's compatibility.
Specification
* All size measurements in centimetres (cm)
Max. Range: 35km
Weight without Battery and Mount: 12.8kg
Warranty: 2 years frame, 1 year battery, motor and electronics
Documentation
---
You may not have to pay VAT on this item (*Subject to status)
Simply add the product to your shopping basket and fill out the zero-rated VAT form when you checkout. If you require any assistance please give us a call on 0808 2959 909.