Prices from:
£2,809.36 exVAT
£3,371.23 incVAT
Product code: stabilograndearmadillo
Get it by 5th Jun
(Estimated)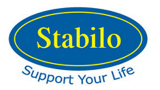 Tel: 0808 2959 909
Email: sales@bettermobility.co.uk
Description
The Stabilo Grande Armadillo mattress combines the stability of the Stabilo Grande with a pressure relieving mattress suitable for longer periods in one position. The mattress uses alternating pressure technology to reduce the risk of pressure sores, using a pump which inflates and deflates the chambers of the mattress, aiding blood circulation and providing body massage to reduce painful muscle tone and joint stiffness. The air circulated lowers the temperature of the mattress to room temperature, protecting the skin from sweating and maceration.

The MembraMED mattress cover is breathable, smooth (to prevent chafing) and designed to improve air circulation around the user.

The Stabilo Grand Armadillo consists of:


- Stabilo Grande (Medium Plus) mattress and pump
- Pressure-relief mattress and pump
- MembraMED cover
Specification
* All size measurements in centimetres (cm)
Width: 90
Length: 200
---
You may not have to pay VAT on this item (*Subject to status)
Simply add the product to your shopping basket and fill out the zero-rated VAT form when you checkout. If you require any assistance please give us a call on 0808 2959 909.