Prices from:
£1,126.00 exVAT
£1,351.20 incVAT
Product code: stabilogrande
Approximate Delivery Date
30th Sep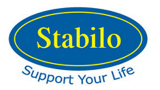 Tel: 0808 2959 909
Email: sales@bettermobility.co.uk
Configure


Price including selected options: £1,126.00 exVAT (£1,351.20 incVAT).
* Please note that all online orders will be carefully checked for compatibility. You will be notified should any action be required.
Description
The Stabilo Grande is a mattress-sized cushion. It can be used situations where it is not possible for the user to be supported by an ordinary mattress. Its versatility means that it may be used for lying on, sitting or physiotherapy and rehabilitation, and it is possible to adapt the same equipment for several users. The mattress is supplied with an electric Vacumaker pump to quickly change and set the shape.
The Stabilo stablising system works using vacuum preserving of a modelled shape. A special pump helps to deflate the cushion, allowing it to harden into the required shape. The shape and hardness can be changed very easily. An electric pump is included with this mattress.
Specification
* All size measurements in centimetres (cm)
Width:
70 (Medium)
90 (Medium Plus)
130 (Large)
Length:
160 (Medium)
200 (Medium Plus)
200 (Large)
Documentation
---
You may not have to pay VAT on this item (*Subject to status)
Simply add the product to your shopping basket and fill out the zero-rated VAT form when you checkout. If you require any assistance please give us a call on 0808 2959 909.