Prices from:
£443.39 exVAT
£532.06 incVAT
Product code: stabiloarmrest
Get it by 5th Jun
(Estimated)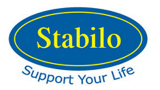 Tel: 0808 2959 909
Email: sales@bettermobility.co.uk
Configure


Price including selected options: £443.39 exVAT (£532.06 incVAT).
* Please note that all online orders will be carefully checked for compatibility. You will be notified should any action be required.
Description
Designed for children and adults with Cerebral Palsy, the Stabilo Armrest assists in stabilising and positioning the forearm and hand. The level of vacuum inside the headrest can be adjusted with the included hand pump to alter the firmness of the support. Dual Velcro straps allow the arm to be secured. Can be used to help with torso distortion and flacidity.
The Stabilo Armrest attaches to the armrest of the wheelchair or chair with a velcro pad that can be easily mounted as required using cable ties or other means of fastening.
Available in two sizes.
Hand pump and stabilising neoprene strips are included.
Specification
* All size measurements in centimetres (cm)
Width: 25
Length:
30 (Medium)
45 (Large)
Documentation
---
You may not have to pay VAT on this item (*Subject to status)
Simply add the product to your shopping basket and fill out the zero-rated VAT form when you checkout. If you require any assistance please give us a call on 0808 2959 909.