Prices from:
£4,238.00 exVAT
£5,085.60 incVAT
Product code: easystandevolv
Approximate Delivery Date
8th Aug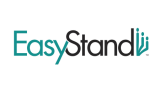 Tel: 0808 2959 909
Email: sales@bettermobility.co.uk
Price including selected options: £4,238.00 exVAT (£5,085.60 incVAT).
* Please note that all online orders will be carefully checked for compatibility. You will be notified should any action be required.
See more
A versatile sit-to-stand solution
Description
The EasyStand Evolv is a highly configurable sit-to-stand chair/frame with over 60 options and configurations, meaning it can be tailored to the specific requirements of the user or therapist. Available in Medium, Large and XT sizes to suit a wide range of users.
The pivot points of the frame can be matched to the user's natural pivot points for minimal shear and maximum support. The EasyStand Evolv features adjustable footplates and optional independent knee pads, making it possible to accommodate for hip and knee contractures.
With an open base and optional rotating seat, swing away front, manual hydraulic lift or even power lift the Evolv makes standing pivot or lift assist transfers possible and can even be independently operated by the user.
The Evolv base model includes 13cm (5in) rear locking castors, two 13cm (5in) front wheels, manual hydraulic actuator with handle, flip-up knee pad, multi-adjustable foot plates, black moulded tray with chest pad and black upholstery (back not included).
The optional adjustable shadow tray provides constant anterior support by shadowing the user throughout the sit to stand transition. It easily flips up with the lock and release system providing an open base when transferring. The tray includes a chest pad, but a large contoured chest pad with height adjustment is also available. Please note this option is not available with mobile.
* Please view the pricelist under 'documents' to see what is included in the standard package
Specification
* All size measurements in centimetres (cm)

Intended User Height:
122 to 168 (4ft to 5ft 6in) (Evolv Medium)
152 to 188 (5ft to 6ft 2in) (Evolv Large)
183 to 211 (6ft to 6ft 10in) (Evolv XT)

Max User Weight:
90kg (Evolv Medium)
127kg (Evolv Large)
159kg (Evolv XT)

Seat Depth:
36 to 48 (Evolv Medium)
46 to 59 (Evolv Large)
50 to 64 (Evolv XT)

Footplate Distance:
28 to 46 (Evolv Medium)
36 to 53 (Evolv Large)
43 to 58 (Evolv XT)

Seat Height:
55 (Evolv Medium/Large)
60 (Evolv XT)

Knee Pad Width: 43
Knee Pad Height: 23

Knee Pad Depth:
5 to 18 (Evolv Medium/Large)
6 to 20 (Evolv XT)

Total Length:
91 (Evolv Medium/Large)
97 (Evolv XT)

Total Width:
67 (Evolv Medium/Large)
72 (Evolv XT)

Total Weight:
46 (Evolv Medium)
47 (Evolv Large)
51 (Evolv XT)
Documentation
Video
---
You may not have to pay VAT on this item (*Subject to status)
Simply add the product to your shopping basket and fill out the zero-rated VAT form when you checkout. If you require any assistance please give us a call on 0808 2959 909.