Prices from:
£3,774.20 exVAT
£4,529.04 incVAT
Product code: LEON
Approximate Delivery Date
30th Sep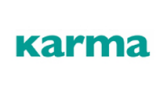 Tel: 0808 2959 909
Email: sales@bettermobility.co.uk
Configure


Price including selected options: £3,774.20 exVAT (£4,529.04 incVAT).
* Please note that all online orders will be carefully checked for compatibility. You will be notified should any action be required.
Compact, comfortable and dynamic
Description
PLEASE NOTE: Our listed price includes Karma's mandatory £10 surcharge
The Karma Leon is a compact and dynamic rear wheel drive power chair ideally suited to indoor and outdoor use and with a range of seating options.
With full suspension, optional 70Ah batteries and high torque motors the Leon offers a comfortable and capable driving characteristic. The Leon also features an optional power tilt/recline seat and is available in a range of vibrant colours.
* Please Note: Only the Sling Seat version of the Leon has been crash tested.
Features:
- Optional Power tilt and recline seat
- Centre mounted footplate
- Optional elevating leg rests
- Full suspension
- Just 62cm (25.5") wide
- Up to 70ah batteries for extended range
- Optional stump supports
- Optional swing away controller
Specification
* All size measurements in centimetres (cm)
Seat Width:
43 / 48 (Sling Seat)
46 / 51 (Captain Seat)
Seat Depth:
41 to 46 (Sling Seat)
43 / 48 (Captain Seat)
Floor to Seat Height:
46 (Sling Seat)
51 / 53 (Captain Seat)
Backrest Height:
48 / 53 (Captain Seat)
43 (Sling Seat)
Seat Tilt: 5° to 23° (Powered) (Optional)
Backrest Recline:
0° to 45° / 0° to 65° (Captain Seat)
-1° to 11° (Sling Seat)
0° to 32° (Sling Seat) (Powered) (Optional)
Armrest Height: 18 to 28
Speed: 6 / 10 kmh (3.7 / 6.2 mph)
Battery Size: 50Ah / 80Ah (Optional)
Max. Range: 25 / 40 km
Turning Radius: 78
Max. Safe Slope: 8°
Max. Kurb Climb: 5
Electronics: VR2
Maximum User Weight: 136 kg
Total Length: 106
Total Width: 62
Total Weight: 108 kg
Warranty: 2 years frame, 1 year parts
Documentation
Video
---
You may not have to pay VAT on this item (*Subject to status)
Simply add the product to your shopping basket and fill out the zero-rated VAT form when you checkout. If you require any assistance please give us a call on 0808 2959 909.
The crash test symbol indicates that this chair has been tested for use in a vehicle to ISO7176-19 accreditation or similar.