Sunrise Zippie Triton
Purchasing Information
Product code: TritonSeating
Delivery time: 3-4 weeks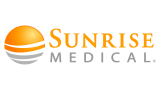 Tel: 0808 2959 909
Email: sales@bettermobility.co.uk
Share:
Description
The Sunrise Medical Triton is a modular seating system suitable for those with complex seating and postural needs. The Triton is designed to cater for a wide range of users and is fully adjustable, meaning each system can be specifically tailored to meet individual user's requirements.
Standard features of the Triton seating system include removable backrest, multi-directional sacral pad, adjustable seat length, adjustable back height, width adjustment, back angle adjustment, adjustable angle leg rest mounting and a choice of flat, ramped or contoured seat cushions.
The Triton Superior Dynamic Back uses air pressure and a controlled gas cylinder so the level of resistance the user feels can be easily controlled. A locking function can also be engaged for meal times, transferring and transportation.
In conjunction with the hip support, the range of adjustment in the sacral pad allows the pelvis to be positioned with great precision. The sacral pad can be used to accommodate rotation, working alongside the dynamic back, the sacral pads work independently to maintain precise pelvic positioning.
Have a question or wish to learn more? Please
contact
our knowledgeable seating specialist.
Features include:
Removable backrest
Multi-directional sacral pad
Adjustable seat length
Adjustable back height
Width adjustment
Back angle adjustment
Adjustable angle leg rest mounting
Choice of flat, ramped or contoured seat cushion
Details
Brand: Sunrise Medical
Product Code: TritonSeating
Documentation
---