Prices from:
£609.00 exVAT
£730.80 incVAT
Product code: drivetrotter
Get it by 19th Jun
(Estimated)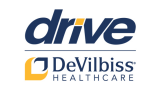 Tel: 0808 2959 909
Email: sales@bettermobility.co.uk
Configure


Price including selected options: £609.00 exVAT (£730.80 incVAT).
* Please note that all online orders will be carefully checked for compatibility. You will be notified should any action be required.
Lightweight and available with a wide range of accessories
Description
The Drive Medical Trotter is a lightweight, easily transportable positioning chair that provides a solution to transport issues for parents and children. The Trotter comes complete with an adjustable seat depth, positioning seat belt and a five-point 'H' harness with padded strap covers and swing-away footrests that are independently adjustable and removable.
The Trotter is customisable with a headrest extension that provides improved head support for taller users, a height adjustable headrest wing that offers lateral support for the head, a utility bag that attaches to the back of the chair's frame and a full torso vest to offer support and maintain correct body posture and alignment, replacing the 'H" harness.
There is also a canopy available that provides protection from the sun or rain, foot and ankle straps to provide adjustable support and positioning and transit tie-downs to allow the Trotter to be used for transit.
Specification
* All size measurements in centimetres (cm)
TR1200
Seat Width: 30
Seat Depth: 30 to 35
Back Height: 51
Seat To Floor: 56
Maximum User Weight: 34kg (5 stone)
Weight: 15.1kg
TR1400
Seat Width: 35
Seat Depth: 33 to 38
Back Height: 58
Seat To Floor: 56
Maximum User Weight: 45.4kg (7 stone)
Weight: 16.3kg
TR1600
Seat Width: 41
Seat Depth: 35 to 41
Back Height: 61
Seat To Floor: 56
Maximum User Weight: 77kg (12 stone)
Weight: 16.5kg
TR1800
Seat Width: 46
Seat depth: 38 to 43
Back height: 64
Seat to floor: 58
Maximum User Weight: 113.3kg (18 stone)
Weight: 16.8kg
Documentation
---
You may not have to pay VAT on this item (*Subject to status)
Simply add the product to your shopping basket and fill out the zero-rated VAT form when you checkout. If you require any assistance please give us a call on 0808 2959 909.
The crash test symbol indicates that this chair has been tested for use in a vehicle to ISO7176-19 accreditation or similar.